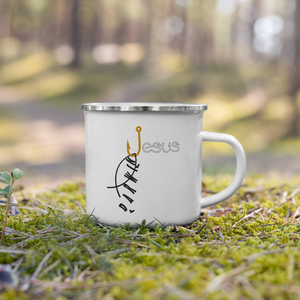 Jesus saves people from drowning in the myth of evolutionism.

"And he saith unto them, Follow me, and I will make you fishers of men. ... And Jesus said unto them, Come ye after me, and I will make you to become fishers of men. And straightway they forsook their nets, and followed him." Matthew 4:19-20

Every happy camper needs a unique camper mug. It's lightweight, durable and multifunctional. Use it for your favorite beverage or a hot meal, and attach it to your bag for easy access on a hike.

• Material: Enamel
• Dimensions: height 3.14″ (8 cm), diameter 3.54″(9 cm)
• White coating with a silver rim
• Hand-wash only
• Blank product sourced from China

Attention! Don't heat liquids or food directly in the mug—it can damage the coating.